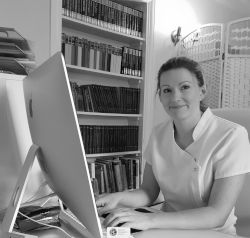 Rebecca Morton M.Ost Do. ND. Principal Osteopath & Naturopath

Rebecca graduated from the British college of Osteopathic Medicine in London with an undergraduate master's degree in Osteopathy and Diploma in Naturopathy in 2012. Since graduating she has kept up to date with various other courses for example:
Dry Kneedling
Kiniesology Taping
Cranial Osteopathy
Treating the Pregnant Patient (Bump to Baby)
Foot Mobilisation
Insight into Treating and Conditioning Professional Athletes
First Aid
Cognitive Behavioral Therapy (CBT)
Various GP and orthopedic surgeon conventions
Advanced spinal manipulation techniques
Rebecca has worked in a well established London Osteopathic Practice where she treated a variety of conditions ranging from pregnancy-related ailments, sporting injuries to care of geriatric patients.
As of November 2019 Rebecca has also joined the team at the multidisciplinary clinic in Hintlesham on Tuesday afternoons and Friday mornings.
Since starting the practice Rebecca has a keen interest in sport, playing netball for 'Sudbury Jets team',  whilst also working at Sudbury Gymnastic club as a qualified level 3 gymnastics coach teaching all abilities from ages of 3 to adults.